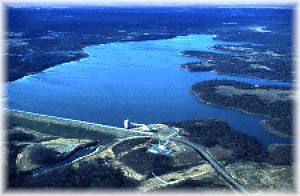 The dam site is at mile 0.8 of Birch Creek approximately one and one half miles south of the of the town of Barnsdall and about twenty miles southwest of the city of Bartlesville.
The region in which Birch Lake is located offers outdoor sportsmen excellent opportunities for year-round enjoyment of the project.
Cradled in valleys surrounded by Osage County's rolling, forested hills, Birch Lake is a perfect setting for nature lovers and other outdoor enthusiasts. The general character of the small lake's shoreline ranges from gentle to steep slopes with numerous rock outcrops. The hilltops and upper slopes are generously forested with small hardwood trees, primarily post oak, blackjack, and other oaks, hickory, hackberry, and elm. In the damsite area, the terrain is semirugged, with the maximum relief being about 100 feet.
The area's plant life represents a transition zone of the cross timbers forest, oak-hickory forest, bluestem prairie, and bottom-land plants and shrub. Several species of grasses and numerous colorful flowering species are particularly beautiful in spring and fall.
Picnic and Recreation - Three park areas located around the lake offer the public many opportunities for outdoor family fun and picnic areas, drinking water, restrooms, charcoal grills and boat launching ramps.
Boating - Boating on the lake is in accordance with state boating laws and Corps of Engineers regulations. Regulations governing operational requirements of boats may be obtained from the Skiatook Lake Office or from the Tulsa District Office.
Lake Information
Fees: Camping Fees Required
Location: 1.5 mi S of Barnsdall off Hwy 11
Contact: 918-847-2001