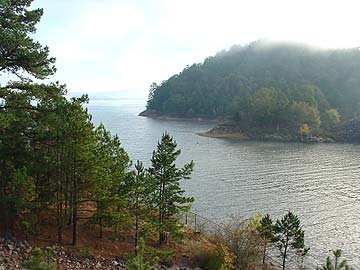 Two hundred feet above Beaver's Bend is crystal-clear Broken Bow Lake, a favorite of scuba divers and bass fishermen. Broken Bow Lake is one of the most picturesque settings in Oklahoma. There is 180 miles of pine-studded shoreline, and 14,220 acres of lake. Surrounding the island-dotted lake are plenty of RV and tent sites.
The lake stretches 22 miles back into the Ouachita mountain country where its unusual beauty and scenic appeal beckons all nature enthusiasts. The mountain terrain is densely forested and there are many species of birds native to the area for birdwatchers to enjoy.
Numerous park areas located around the lake give the visitor an unmatched opportunity for outdoor family fun and relaxation. Recreational facilities include boat launching ramps, camping, picnic sites, beaches, water and sanitary facilities.
Lake Information
Fees: Park Permit Required
Location: 6 miles N of Broken Bow on US 259-A
Contact: 580-326-2366