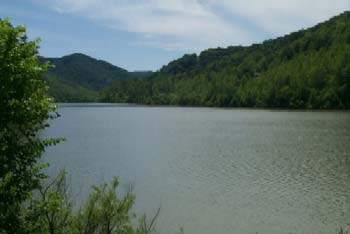 Beautiful, mountainous terrain in the heart of Kentucky coal country, with a historic log structure near the dam, Buckhorn Lake is located in the Cumberland Plateau of eastern Kentucky and a short drive from the Daniel Boone National Forest and the Red River Gorge Geological Area. The lake was completed by the U.S. Army Corps of Engineers in 1961. Quaint fishing spots dot the scenic lake while unique camping options include cable TV access or boat-in campsites.
The 1,230 acre Buckhorn Lake and surrounding area offers a wide variety of outdoor recreation opportunities. The Corps, in cooperation with the Commonwealth of Kentucky manages the land and water for wildlife, fisheries and recreation.
At Buckhorn Lake you can camp or picnic at one of four Corps operated recreation areas; fish, boat, swim or ski on Buckhorn Lake; hunt in the Buckhorn Lake Wildlife Management Area or Daniel Boone National Forest; walk numerous undeveloped trails; or enjoy a weekend getaway at the Buckhorn Lake State Resort Park.
Lake Information
Location: From Hazard, 9 mi N on KY 15, 20 mi E on KY 28
Contact: 606-398-7251