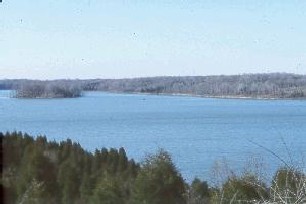 Come visit one of southwest Ohio's hidden treasures. Caesar Creek Lake is more than 10,000 acres of lush, mature forests, with more than 45 miles of trail to explore the beautiful park. There are horse trails, mountain biking trails, and a great campground.
Water recreation on the 2,830-acre Caesar Creek Lake is one of the key attractions. The seven mile long lake provides many activities such as boating, fishing, swimming and sailing. Four no fee boat ramps are available for boaters.
One of the most unique facets of the park is the Emergency Spillway. There you can hunt for Ordovician Age fossils, with a free permit obtained at the Visitor Center. There are many small areas for family friendly picnicking and larger areas that are reservable for your larger gatherings.
A Regional Visitor Center for the Corps of Engineers is located at the dam. There is also a reconstructed pioneer village on the project. Caesar Creek Lake is located in Southwest Ohio and is situated in a geologic region known for Ordovician Age fossil collecting.
Lake Information
Location: 5 mi E of Waynesville on OH 73
Contact: 513-897-1050