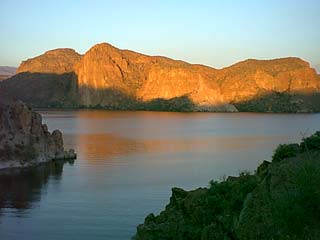 This beautiful lake was formed behind Mormon Flat Dam constructed in 1923-1925. Canyon Lake provides a refreshing contrast to the parched tones of the desert. Tortilla Creek and Boulder Creek flow into the Lake. Usually dry, the creeks can be raging white-water torrents after major storms. The main source of the Lake's water is from the Salt River, which drains thousand of square miles of mountain watershed in eastern and central Arizona. Canyon Lake is the third and smallest at 950 surface acres in a chain of four lakes created by damming up the flow of the river. Two others, Apache Lake and Roosevelt Lake are upstream. The fourth is Saguaro Lake downstream.
The lake is 51 miles east of Phoenix and a popular spot for swimming and boating. There are three recreation sites at the lake available at no charge. They are the Acacia Picnic Site, the Palo Verde Recreation Site and the Boulder Creek Recreation Site. Acacia, with 40 spaces, Palo Verde, with eight spaces, and Boulder Creek, with eight spaces, are open year around. It has a designated swimming site and a pair of boating ramps. The Canyon Lake Resort offers a variety of marina services, food and a beach area. Located nearby is a Maricopa County Sheriffs aid station. Across the highway from the resort is a hiking trail that borders La Barge Creek and a small finger channel of the lake. La Barge Creek originates in the Superstition Mountains to the east. Two miles from the resort is the Tortilla Campground with 77 spaces. Open October through April, the campground offers individual units with water and sewer hook-ups. A fee is charged for use. Across the highway from the campground is Tortilla Flat, which includes a coffee shop, store and post office. For fishermen, Canyon Lake offers walleye, largemouth bass, yellow bass, rainbow trout, bluegill, channel catfish and crappie. Seclusion-seeking boaters can travel three miles up the lake, between steep cliffs, to The Point Campground. It is open all year at no charge, but has only three units.
The 15 miles to the lake are fully paved and wind through some of the most colorful desert scenery in central Arizona. Drive with care - there are many sharp turns.
Lake Information
Fees: No Park Fees
Location: 15 miles NE of Apache Junction on SR 88
Contact: 480-610-3300