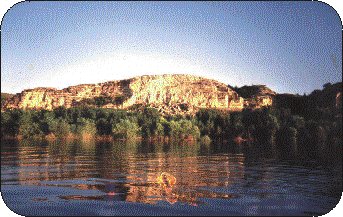 Cedar Bluff is located on the Smoky Hill River in west central Kansas. Reservoir open 24 hours. Good access roads. Available species include walleye, crappie, white bass, channel catfish, and wipers. The reservoir has approximately 3280 water surface acres, 8256 land acres and 50 miles of shoreline. Fishing season year-round.A snack bar is available.Hunting is available to the public for deer, waterfowl, and upland game. Special hunts can be arranged by application for youth, disabled, or family groups.
The 6,000-acre lake and almost 9,000 acres of adjacent wildlife area make Cedar Bluff State Park an excellent base camp for hunters, fishermen, and year-round explorers. High limestone bluffs provide spectacular scenery and a stunning rustic setting for all of the outdoor activities.
Wildlife Viewing - Water Sports - Visitor Center - Recreational Vehicles - Picnicking - Hunting - Hiking - Fishing - Camping - Boating
LOCATION: www.google.com/maps/place/Cedar+Bluff+Reservoir/@38.7916773,-99.8956856,14z/data=!3m1!4b1!4m5!3m4!1s0x87a102426ac7ad09:0xb579266c6d81652f!8m2!3d38.7916792!4d-99.878176
FISHING REPORT: https://ksoutdoors.com/Fishing/Where-to-Fish-in-Kansas/Fishing-Locations-Public-Waters/Northwest-Region/Cedar-Bluff-Reservoir/Cedar-Bluff-Reservoir-Fishing-Report
CAMPING: Cedar Bluff State Park straddles the reservoir providing approximately 1,000 acres of park. Over 120 utility sites are provided(including cabins) and large areas are set aside for non-designated primitive camping. The Park suits nearly every taste and includes two handicapped-accessible primitive cabins.
LODGING: www.tregocountyks.com/2391/Lodging
RESTAURANTS: https://www.tregocountyks.com/2370/Restaurants
THINGS TO DO IN WAKEENEY:(18 MILES DUE NORTH) www.tregocountyks.com/2381/Entertainment-Sports-Recreation
SHOPPING WAKEENEY: www.tregocountyks.com/2399/Shopping-Retail
Lake Information
Fees: Park Permit Required
Location: 7 miles east of WaKeeney and 13 miles south of Interstate 70 at exit #135
Contact: 785-726-3212