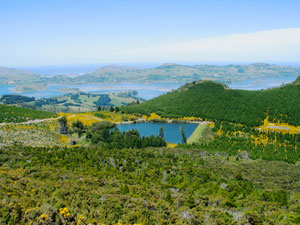 The fourth largest lake in Texas, Cedar Creek Lake is 32,623 acres, 18 miles long and offers 320 miles of shoreline. The widest point of the lake is 8.5 miles and the deepest is 53 feet.
The reservoir was completed in 1965 as a water source to Fort Worth and many other local communities in North Texas. The lake also boasts three islands that are managed by the Texas Parks and Wildlife Department as Wildlife Management Areas for aquatic birds. Access is available at several private marinas. Some private ramps may be difficult to use under low-water conditions. Campsites or RV hookups are available at several marinas.
Fish species of interest to sport fisherman include: largemouth, hybrid striped, hybrid yellow, striped and white bass, black and white crappie; blue, channel, and flathead catfish. Largemouth bass angling is best in the lower end of the reservoir where the water is clear. The lake record weighed 14.65 pounds. Catfishes are abundant, with more blues than channel cats in the legal size range. Hybrid striped bass are stocked annually and the lake record is 13.19 pounds.
Lake Information
Location: 15 mi W of Athens in the area between US 175 and TX 274
Contact: 817-335-2491