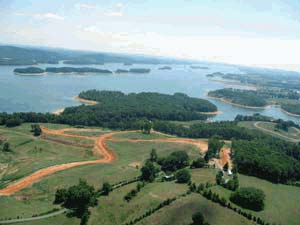 Cherokee Reservoir attracts millions of recreational visitors each year offering 30,300 surface acres and 393 miles of shoreline. Along its shorelines are public access areas, county and municipal parks, commercial boat docks and resorts, a state park, and a state wildlife management area. There are many tent and trailer sites for campers. Cherokee Reservoir provides nearly 400 miles of winding shoreline and about 28,780 acres of water surface.
Fishing is popular at Cherokee, and the reservoirs fish population is very similar to that found in other east Tennessee reservoirs - black bass, sauger, walleye, crappie, various sunfish, and the usual rough-fish species.
Cherokee was built to generate hydroelectric power during the World War II emergency, but it also plays an important role as one of the chain of TVA reservoirs that over the years have prevented billions of dollars of flood damage in areas downstream.
The deep waters of Cherokee Reservoir lose oxygen during the summer months, and the water that generates power is drawn out of these depths. In order to increase oxygen levels for aquatic life below the reservoir, TVA injects oxygen through miles of perforated hoses suspended above the reservoir bottom. TVA also uses huge, slow-turning fans just above the dam to push oxygenated surface water into the depths of the reservoir.
Lake Information
Location: I 81 to Exit 8, 9 mi N on Hwy 25E
Contact: 865-632-3791