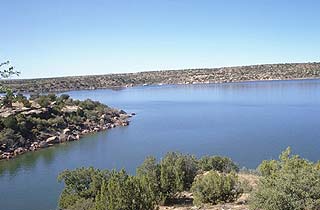 With its ample camping and picnicking facilities, boat ramps, marina, bait and tackle supplies, food services, and playgrounds, Conchas Lake offers visitors a variety of services. An airstrip and golf course are located at the south recreational area.
Campgrounds at the park offer a total of 101 sites, some with electric hookup, RV dump station, restrooms, and showers.
Conchas Lake is growing in popularity with bird-watchers, especially in winter when the lake attracts a variety of waterfowl.
One of the state's largest lakes includes 60 miles of varied shoreline, secluded coves, canyons, and sandy beaches. Ancient rock formations date back to the Age of Dinosaurs. Observant visitors may discover the fossils of ancient sea creatures.
Conchas Lake State Park offers a wide variety of water sport activities including boating, fishing and water-skiing at this refreshing, 25-mile long reservoir.
Anglers can catch walleye, largemouth bass, channel catfish, bluegill, and crappie.
Lake Information
Contact: Corps of Engineers Operations Manager
P.O. Box 1008
Conchas Dam, NM 88416
(505) 868-2221