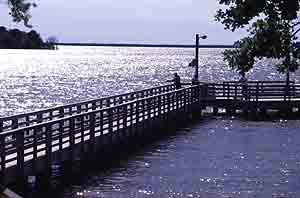 Jim Chapman Lake/Cooper Dam is a 19,305 acre impoundment operated by the Corps of Engineers and is located an hour and a half east of the Dallas-Fort Worth Metroplex. It is fed by the South Sulphur River, a fork of the Sulphur River, and provides water supply storage for the North Texas Municipal Water District, the Sulphur River Municipal Water District, and the city of Irving.
The lake has evolved into one of the best all around fishing lakes in the region growing in popularity among weekend anglers and Pro Guides alike. Species likely to be caught are Blue and Channel Catfish, Blue Gill, Florida Largemouth Bass, Crappie and Hybrid Striped Bass.
Texas Parks and Wildlife Department's Cooper Lake State Park is located on Jim Chapman Lake. Cooper Lake State Park is comprised of two units: South Sulphur Unit and Doctor's Creek Unit. Activities include camping, fishing, water skiing, picnicking, boating, unsupervised swimming, bird watching, nature study, fun and educational nature programs and tours. The South Sulphur Unit offers equestrian camping and horseback riding trails.