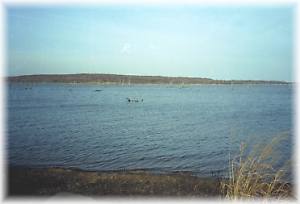 Dripping Springs Lake is located above Okmulgee Lake on a large watershed and is a definite contrast to Okmulgee Lake with a flat shoreline of 18 miles, and much shallower water pool covering 1,100 acres. No water skiing is allowed.
Constructed by the Soil Conservation Service around 1980, Dripping Springs is fast becoming a premier Oklahoma lake. It has become the state's first trophy bass lake, a popular stop on the tournament circuit. Fishermen test their skill against the lake and its submerged trees and brush to net "the big one."
Dripping Springs draws its name from a spring that is located under the water. Before construction, this was a favorite area for outdoorsmen. Now the cool spring water feeds into the lake and the area near the spring offers many types of game fish for the taking year round.
Lake Information
Fees: Park Permit Required
Location: 5 miles W of Okmulgee on Highway 56
Contact: 918-756-5971