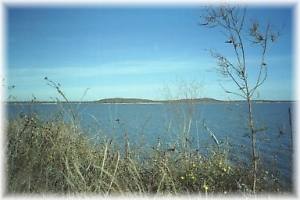 Oklahoma's largest man-made lake, Lake Eufaula, was completed in 1964 for water control for flooding and water level for the Arkansas River Waterway. The lake covers much of McIntosh and Pittsburg County and is a fabulous tourist and resort attraction with two beautiful theme type lodges.
Eufaula Lake, 15th largest in the United States and known as the "Gentle-Giant," has 102,500 acres of water, plus lots of sandy beaches. With fishing available on the lake year round, spring and fall are the most beautiful time of year to fish because of the spectacular scenery of Southeast Oklahoma. The lake boasts such fish as striped bass, largemouth bass, white bass, crappie, catfish, walleye, and numerous sunfish.
The lake boasts of not one, but two outstanding resorts. Fountainhead Resort Hotel and Conference Center is located in McIntosh County at the north end of the Fountainhead State Park. Arrowhead Resort and Gaming Center is in Pittsburg County on the opposite end of the lake. Built of native stone and rough timbers, Arrowhead becomes part of the rustic scenery that makes the resort a popular place to stay. The Choctaw Nation of Oklahoma owns and operates Arrowhead with the special feature of High Stakes Bingo. The two resorts, plus all of the other attractions on the lake, are complemented by a hospitality acknowledged by visitors from all over the country. The Oklahomans who act as hosts and hostesses to the lake area take a lot of pride and satisfaction in making sure everyone who comes to their lake is filled with a desire to return.
Lake Information
Fees: Park Permits Required
Location: Highway 69 South of I-40
Contact: 918-689-7751