category : Fishing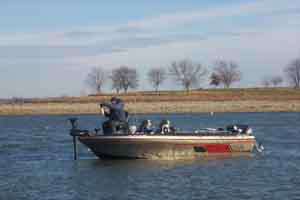 Fishing: Perry is best known for its crappie and channel catfish angling.
Crappie numbers and sizes are historically good to excellent. Best angling opportunities for crappie are in the Slough Creek, Rock Creek, and Old Town areas. The Rock Creek Area offers good ice fishing while the Old Town area can offer very good fall and open water winter fishing.

The best areas for Channel Catfish are on mud flats in the upper end of the reservoir. The Delaware River can offer very good catfishing as well.

White bass fishing at Perry is fair to good. Spring spawn runs up the Delaware River can be good depending on water flows and turbidity rates. Open water fishing is also productive when the white bass are chasing schools of shad.

Walleye and largemouth bass numbers have decreased since the early days of the reservoir. Walleye are rare, but largemouth bass numbers are still at a fishable level. The best areas for largemouth are the Slough Creek and Rock Creek arms of the lake.

Other fish that offer fishing opportunities are flathead catfish, carp and drum.
Come visit us in Perry Lake, Kansas