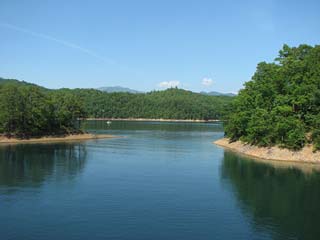 Fontana Reservoir occupies a site of particular splendor deep in the Great Smoky Mountains and provides 238 miles of shoreline and 10,230 acres of water surface for recreation activities. Fishing, boating, and swimming are all popular at Fontana, but it is perhaps most appreciated by wilderness hikers and campers.
The Appalachian Trail, which extends over 2,000 miles from Georgia to Maine, crosses the top of Fontana Dam. The hot showers available at the trail shelter maintained by TVA have led grateful hikers to dub it the Fontana Hilton. The Great Smoky Mountains National Park borders the reservoir to the north.
Fontana was built during World War II to provide electric power for the war effort. A new town, housing some 5,000 people who worked around the clock in three shifts, sprang up in the forest, and the project broke construction records. What was once the construction village is now a resort offering recreational activities such as boating, horseback riding, and crafts making.
The Fontana Dam Visitor Center is is open to the public from 9 a.m. to 7 p.m. daily from May through November. It will be closed when the homeland security alert level is high (orange) or higher.
Lake Information
Location: From Bryson City, NC, take Hwy 19/74 S to Hwy 28 E follow signs to Fontana Dam
Contact: 865-988-2420