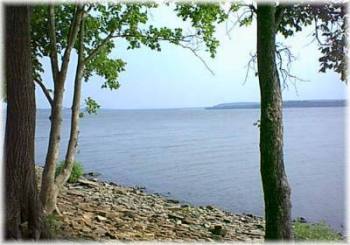 Whether you're looking to relax in a secluded resort, hide away in a cozy cabin or pitch a tent, remember the Oklahoma sun, skies and hospitality of the Fort Gibson Lake area. You'll find 26 parks and recreational areas on the water. Eight marinas with concessions, lake cabins, on-the-water dining and boat docks make it ways to enjoy the lake.
The lake is filled with black bass, white bass and catfish for some of the best fishing in the U.S. -- even heated docks for winter crappie fishing.
Hunters will have a field day around Fort Gibson Lake. The Oklahoma Department of Wildlife Conservation manages a 4,500 - acre waterfowl refuge and a 17,300 acre public hunting area full of deer, quail, dove, duck, geese, rabbit and squirrel.
If you love boating, water skiing, sailing, canoeing or swimming, you'll find the 26-mile long lake an excellent playground. Don't worry if you don't have your own equipment, all types of boats, ski rigs, party barges and other accessories are available to rent.
Nature trails, picnic areas, drinking water, restrooms, launching ramps and campsites are located all around the lake.
Lake Information
Fees: Park Permit Required
Location: 5 miles N of Fort Gibson on Hwy 80
Contact: 918-682-4314