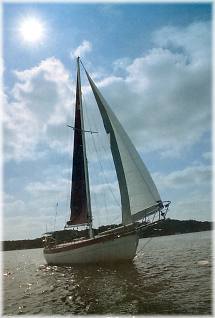 Grand Lake O' The Cherokees is one of the premiere lakes in the Midwest and the crown jewel of a chain of lakes in the northeastern Oklahoma region. It was created in 1940 with GRDA's completion of Pensacola Dam.
Its 46,500 surface acres of water are ideal for boating, skiing, fishing, swimming and sailing. In fact, the lake, which lies in a southwest to northeast direction, is popular with sailboat enthusiasts wishing to take advantage of the prevailing wind.
With 1,300 miles of shoreline meandering through the foothills of the Ozark Mountains, everything from bustling lakeside communities to quiet secluded coves and lakeside resorts can be found along its shore. Grand and GRDA's Lake Hudson are the only two major lakes in the state where residents can own lakefront property on the water's edge.
Grand is consistently ranked among the top lakes for bass fishing in the region and is also a haven for migratory waterfowl and other wildlife.
Entertainment abounds in the Grand Lake Area. Visitors can enjoy cruising the lake on an authentic paddlewheel riverboat, experience horseback riding and hay rides, attend a live outdoor amphitheater production, visit an internationally known Japanese garden, and participate in high-stakes electronic bingo and off track betting.
You can also visit an historic antique museum featuring over one hundred reconstructed turn-of-the-century cabins and village shops. The shores of Grand Lake boast many championship golf courses, both private and public, some with fabulous vistas of the lake.
And, of course there is a wide variety of boating and fishing fun to be experienced, including parasailing, personal water craft rental, fishing guides to help you find the best spots to cast a line, as well as luxurious yachts for hire, complete with captain.
Several state parks in the area feature reserved waterfront campsites for complete family fun.
Grand Lake is also a great place to catch extreme 4x4 action. Nearly every weekend, you can find all types of "rigs" playing at the base of Pensacola Dam in Langely and Disney.
Lake Information
Location: Northeast Oklahoma
Contact: 918-786-2289