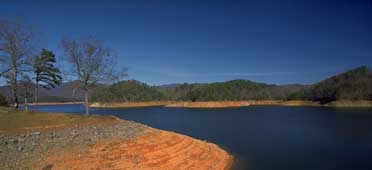 This beautiful mountain lake covers over 6,000 acres and has almost 188 miles of shoreline. The Hiwassee, Nottley and Valley Rivers feed it, and along with Appalachia Lake and Lake Chatuge, the three lakes are often referred to as the "Chain of Lakes." Surrounded by the Nantahala and Cherokee National Forests, Hiwassee and the adjacent Apalachia Reservoir serve as a rich habitat for deer, wild turkey, and other animals. Below Hiwassee Dam a day-use park on Apalachia Reservoir provides access to boating, fishing, and exploring the reservoir and its tributaries.
The Hiwassee is exceptionally beautiful and well suited for canoeing, rafting, and learning the basics of whitewater boating. The flow of water in the reservoir which stretches 22 miles northwest to southeast comes from deep below the surface and is chilly, even in the summer.
In addition to recreation, Hiwassee Reservoir serves a number of other purposes, including flood control and power generation
Lake Information
Location: HWY 60 W to 294 N to Hiwassee Dam.
Contact: 828-837-7395