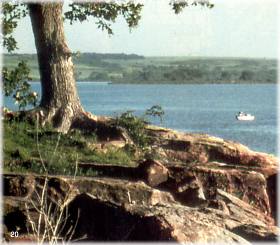 Hulah Lake lies in the upper reaches of the high rounded Osage Hills, and was named after the nearby community of Hulah, which was established in 1918. The name is derived from the Osage Indian word Hulah meaning "eagle". Hulah Lake is located in a farming and ranching community where grazing cattle and working cowboys are familiar sights along any access road. Upon arrival at the lake, visitors will be impressed with the dam structure itself. The gentle sloping terrain gradually slopes to the water's edge creating an attractive shoreline along the adjacent grasslands and forest areas. The picturesque setting is an open invitation to the visitor for picnicking, camping, hiking and sightseeing. For the nature lover, there are many native trees and flowering shrubs, including dogwood, redbud, wild plum and a variety of wild flowers.
Hulah lake provides fishermen and hunters many opportunities as well. The principal species of fish in the lake include largemouth bass, white bass, crappie, channel catfish, flathead catfish, and bullhead catfish.
Camping and picnicking facilities include boat launching ramps, camping and picnicking sites, beaches and sanitary facilities have been provided in the developed park areas located around the lake.
The lake offers the visitor extensive opportunities for a memorable outdoor recreation experience. Overnight accommodations, services and supplies are available at convenient locations on the lake.
Lake Information
Fees: Park Permit Required
Location: 10 miles W of Copan on Hwy 10
Contact: 918-532-4334