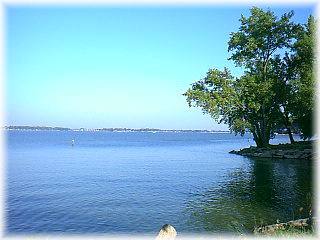 While most lakes on Central's supply canal are canyon lakes, Johnson Lake was originally a natural depression or low-lying area when construction began in 1939.
Named for George E. Johnson, Central's chief engineer during construction of the hydro-irrigation project and general manager from 1935 to 1946, the lake serves as the regulating reservoir for the Johnson No. 1 and Johnson No. 2 Hydroplants which are one and six miles respectively downstream from the lake on the Supply Canal. The lake, which covers about 2,500 surface acres, is one of the most popular recreational lakes in central Nebraska.
The Nebraska Game and Parks Commission leased 50 acres of land adjacent to the lake in 1945 and created what is now the Johnson Lake State Recreation Area, the heart of a four-lake complex on the Tri-County Canal system.
Fisherman discovered the lake almost immediately after it was formed. Power boats, virtually unknown in central Nebraska before the hydro-irrigation project was built, became more numerous on the lake in the 1950s and water-skiing soon became a popular recreational activity.
The cabin development at the lake began with a few small structures either built on-site or hauled to the shore to serve as simple fishing huts. Larger cabins soon followed and the 11-mile shoreline was virtually lined with cabins by the late 1960s. There are now almost 1,000 homes and cabins at the lake.
The lake also features a swimming beach on the southeast side of the lake, public boat ramps, and a variety of concessionaires. An 18-hole public golf course is located below the dam on the south side of the lake. Marinas and other concessionaire provide a full range of services and supplies at Johnson Lake.
Handicapped Accessible.
Lake Information
Fees: Park entry permit is required.
Location: 7 mi. North of Elwood on U.S. 283
Contact: 308-785-2685