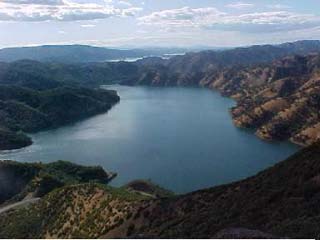 Nestled between Blue Ridge and Cedar Roughs, east of the Napa Valley, Lake Berryessa offers year-round recreation opportunities. Berryessa's water reaches temperatures of up to 75 degrees in the summer, making it an ideal place for water sports. Anglers enjoy fishing for both cold and warm water species, such as rainbow trout, bass, catfish, crappie, and bluegill.
The Bureau of Reclamation provides two large day use areas (Oak Shores and Smittle Creek), Capell Cove launch ramp, and many smaller dispersed day use areas. The seven resorts around the lake are managed by concessionaires under contract with Reclamation and provide camping, day use and boating facilities.
At capacity, Lake Berryessa stores 1.6 million acre feet of water and is one of the largest bodies of fresh water in California. The lake is 26 miles long by 3 miles wide, with 165 miles of shoreline. Reclamation and the California Department of Fish and Game jointly manage a 2,000 acre wildlife area along the east side of the lake.
The Monticello Dam area at the southeast corner of the lake is one of the best local birding areas. The best time to visit for the best birding opportunities is in the early spring and late fall during migration and nesting seasons. The grassy hills dotted with oak and manzanita provide excellent opportunities to view eagles, hawks, songbirds, wild turkeys, and deer. Shoreline viewing opportunities may include canada geese, pelicans, great blue herons, western grebes, wood ducks, snow geese, and common loons.
Planning is currently underway to replace existing exhibits in the Visitor Center, which is only open on Saturdays and Sundays. Lake Berryessa is on Putah Creek and is formed by Monticello Dam - features of the Solano Project.
Lake Information
Location: Hwys 121 and 128
Contact: 707-966-2111