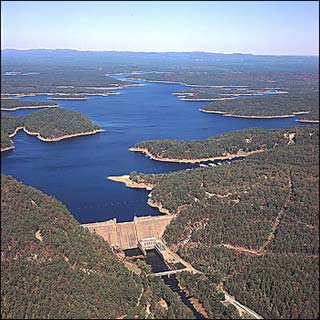 Narrows Dam impounds the waters of the Little Missouri River to form 7,000-acre Lake Greeson, a prime recreational resource in southwest Arkansas. The 12-mile-long lake features clear waters and steep, rocky ridges that form numerous islands and long peninsulas extending into the lake. Anglers flock to Lake Greeson for the abundant channel catfish and rainbow trout fishing.
Fishing: The lake's rich variety of game fish includes such species as largemouth, smallmouth, spotted and white bass, flathead and channel catfish, black and white crappie, and bluegill. In the Little Missouri River tailwaters below the dam, rainbow trout fishing is a popular sport, as these are stocked by the Arkansas Game and Fish Commission.
Camping and picnicking are available at U.S. Army Corps of Engineers' parks and at Daisy State Park located around the lake shore. Two private resorts are also located on the lake.
A total of 45 miles of walking, nature and cycle trails can be enjoyed in the area surrounding the lake. The Bear Creek Cycle Trail covers 31 miles and spans rocky hills, beautiful pine forests and colorful autumn hardwoods along the shores of the lake. It begins at Daisy State Park and travels to the Laurel Creek Recreation Area. ATV's, mountain bikes, dirt bikes and hikers use the trail, which is open throughout the year. Trail maps are available at the Daisy State Park visitor center. At the Parker Creek Recreation Area, the Cinnabar Mine Nature Trail travels an area where mining activities were booming during the late 1930s and early 1940s.
Just south of Lake Greeson at Murfreesboro, Crater of Diamonds State Park is the only public diamond field in the world where visitors can search for the gems and keep their finds.
Lake Information
Location: 6 m North of Murfreesboro on AR 27
Contact: 870-285-2151