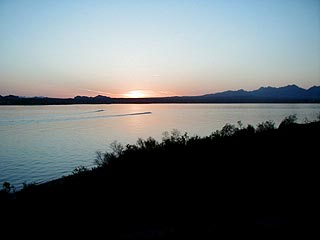 Home to the world-famous London Bridge, Lake Havasu is both a water lover's paradise and a desert lover's dream. Visitors enjoy the top-rated RV resorts and condominiums with spectacular views and convenient locations. And, with more than 300 days of sunshine per year, Lake Havasu is ideal for golf, tennis and desert tours.
More than 400 miles of stunning coastline will refresh you with exceptional watersports, including fishing, skiing, kayaking and houseboating. Public shorelines provide extensive beaches, and several camping and swimming, and hiking areas around the lake. Lake Havasu City is a growing Arizona community and popular vacation destination, developed after Lake Havasu was created by the dam.
More than 2.5 million visitors flock each year to shores of Lake Havasu to enjoy the scenery, the cool waters of the lake and abundant recreational activities. Water sports, hiking, off-road opportunities and cultural and natural history are some of the attractions that draw visitors year round.
Impounded by Parker Dam, 45-mile long Lake Havasu is nestled along the foot of California's Chemehuevi Mountains near Interstate 40. The Lake is managed by the Bureau of Land Management (BLM) which oversees nearly 1.4 million acres of public lands in both the Mojave and Sonoran Deserts along the Colorado River, Lake Havasu and the Arizona uplands to the east.
Lake Information
Location: 19 miles S on Hwy 95 off Inter 40
Contact: 800-2HAVASU