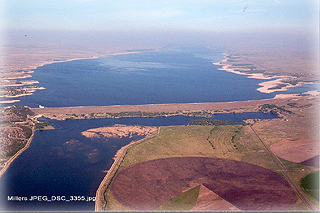 Nearly everything about Lake McConaughy is big. At full storage of 1,948,000 acre-feet, Big Mac is 22 miles long, 4 miles wide for quite some distance from the dam, and 142 feet deep near the dam. When full, Nebraska's largest reservoir is 35,700 acres and has 105 miles of shore line with many sand beaches. Its dam is among the largest of its type in the world, and its fish grow to trophy proportions, accounting for several state records. Even its nickname, "Big Mac". reflects the lake's giant stature.
Kingsley Dam was completed in 1941 by the Central Nebraska Public Power and Irrigation District to impound waters of the North Platte River for irrigation and hydroelectric power generation. But to most Nebraskans and to residents of neighboring states, Lake McConaughy is better known as a place for outdoor good times. Its waters and surrounding land provide the setting for many different kinds of outdoor recreation, thanks to efforts of the Nebraska Game and Parks Commission.
Obviously, such a fine piece of water provides excellent fishing and boating. But, Big Mac also has become a favorite of campers, hunters, sailboaters, windsurfers, swimmers, picnickers, ice boaters, water skiers, scuba divers, and many others seeking outdoor fun.
Lake Information
Fees: Park Permit Required
Location: 9 miles north of Ogallala on Hwy 61
Contact: 308-726-7266