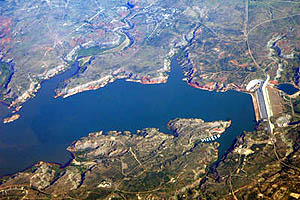 This area is experiencing a drought which may affect fishing and boat ramp access. Before you go, check the current lake level or contact the controlling authority for current conditions.
Lake Meredith is a reservoir formed by Sanford Dam on the Canadian River at Sanford, Texas. It has 16,411 surface acres of water with a maximum depth of 127 feet. Average depth is 30 feet.
This is reportedly an excellent Walleye lake and a great Smallmouth Bass fishery.
THERE IS A CONSUMPTION WARNING FOR FISH IN THIS LAKE. www.tpwd.state.tx.us/regulations/fish_hunt/fish/consumption_bans.phtml#meredith
Lake Information
Location: 45 miles northeast of Amarillo
Contact: National Park Service 806-857-3151