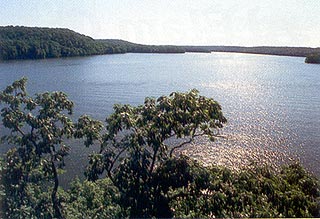 Nestled amid the rolling hills of central Missouri, the Lake of the Ozarks has long been known as mid-America's playground. Because of its size, the Lake offers something for everyone.
The Lake covers 57,000 acres, impounds 617 billion gallons of water and has 1375 miles of cove indented shoreline, more than the entire state of California. The Lake extends 92 miles from end to end and has several communities located around it. These immense statistical facts have created the opportunity for the spectacular tourism area we all enjoy today. Thousands of visitors travel to the Lake of the Ozarks every year to enjoy the beauty and recreation that was brought about by the Great Osage River Project.
Construction of Bagnell Dam began on August 6, 1929 by Union Electric. In the midst of the Great Depression, some 4,600 employees labored day and night to build Bagnell Dam and what was, at that time, the largest man-made lake in the world. The Lake was opened to the public on May 30, 1931.
The Lake of the Ozarks is always in season, as is evident with the number of special events offered throughout the year. No matter when they visit the lake, visitors will find a variety of activities, festivals, events and theater productions to suit their interests.
The friendly Midwestern hospitality at the Lake is only surpassed by the variety of fine accommodations to fit any budget. Whether your stay is at a luxury resort, a motel or condo, a fishing resort or a campsite, the main priority is the comfort of our visitors and an enjoyable vacation-made-easy.
Boating varies from luxurious yachts to speedboats to sailing and fishing crafts (rent or bring your own). Water activities delight our visitors and include swimming, skiing, jet skiing, wave running, and parasailing - or just floating leisurely on an air mattress. Anglers will be challenged by Largemouth Bass, White Bass, Crappie, Stripers and Catfish.
On land, play includes Big Surf Water Park with a variety of wet fun for the whole family. Other recreational activities encompass amusement parks, miniature golf, go-carts, helicopter and sea plane rides, excursion boat rides, boat races, horseback riding, bowling, festivals, fireworks, tours of local caves and an educational tour of Bagnell Dam.
The Lake of the Ozarks has grown into one of the Midwest's premier golf destinations. This central Missouri resort area currently boasts 15 courses and 261 holes of golf chiseled from the Ozark hills.
There are nearly 5,400 registered and mapped "wild" caves in Missouri, 300 of which can be found in the immediate Lake area. Wild caves that have been "tamed" for the public are called "show caves." Three of the 22 show caves in Missouri can be found in the Lake area.
The eagles come in November to nest here for the winter. The countryside takes on a peaceful nature this time of year.
Lake Information
Location: Highway 54 in Central Missouri
Contact: 800-FUN-LAKE