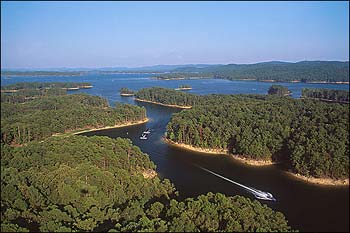 Lake Ouachita, the largest lake (40,100 acres) located entirely within Arkansas, is renowned for its scenic beauty and clear waters. Created when Blakely Mountain Dam impounded the waters of the Ouachita River near Hot Springs, the lake is virtually surrounded by the Ouachita National Forest and has one of Arkansas's most pristine shorelines at some 970 miles. The 40-mile-long lake is a favorite of sailors for its vast stretches of open water. Scuba divers enjoy the clear waters. Recreational boating, water skiing and other water sports are also very popular on Lake Ouachita, which boasts more than 100 uninhabited islands for primitive camping. Available rentals include houseboats, sailing crafts, fishing rigs, and more. Contributing to make the lake one of Arkansas's finest outdoor destinations are Lake Ouachita State Park (with cabins), commercial marinas and resorts, and more than 400 U.S. Army Corps of Engineers' campsites.
Fishing: For anglers, Lake Ouachita is well-known for its prolific fishing opportunities, especially for striped bass and largemouth bass fishing. It consistently ranks in the top 10 nationally for largemouth bass fishing. Mark Davis, 1995 B.A.S.S. Angler of the Year, spends a great deal of time on the lake. Fishing guides are available.
Lake Ouachita boasts an unusual feature, created by the U.S. Army Corps of Engineers. It is the Geo-Float Trail, a marked route that can be followed by boaters guided by a brochure that details prominent geologic features to be seen on the lake.
Hot Springs, near the east end of the lake, is Arkansas's leading tourist destination and home to Hot Springs National Park and many other attractions. At the lake's western end, Mount Ida is famous for its rock shops and quartz crystal mines, many of which are open to the public for a fee.
Lake Information
Location: 13 m W of Hot Springs on Highway 270, N on Hwy 227
Contact: 501-767-2101