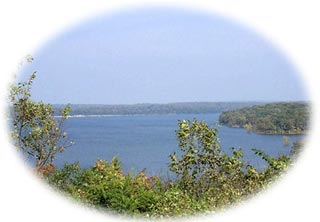 Pomme de Terre Lake is nestled in a beautiful, peaceful, rural area embraced by rolling hills and timber. Known as "Naturally Peaceful", the lake lazily winds its way through the Pomme de Terre and Lindley Creek valleys on its way north to the headwaters of Truman Lake. Pomme de Terre Lake was constructed as part of a flood control project which also encompasses Stockton and Truman Lakes. Both Pomme de Terre and Stockton Lakes flow into Truman Lake. The Osage River that flows onward from Truman Lake becomes Lake of the Ozarks.
Pomme de Terre means "apple of the earth" or potato. French explorers or fur traders are possibly responsible for naming the river. Settlement began in the area about 1830. The economy that encouraged settlers to this area was agriculture, lead and zinc mining and lumber harvesting.
Although Lake Pomme de Terre's primary function is flood control with reacreation being secondary, its construction fostered economic growth in the tourism industry and now the area boasts 18 resorts, lodges and inns, 5 marinas, several RV parks and ancillary services.
Pomme de Terre has an excellent fishery. Whether beginner or experienced fisher, you're sure to catch fish. Fishing from boat, bank or pier, you're sure to have fun.
Lake Information
Fees: Call for Camping and Fishing Permit Fees
Location: Take Hwy 254 S off of Hwy 54.
Contact: Pomme de Terre Lake Area Chamber of Commerce
800-235-9519