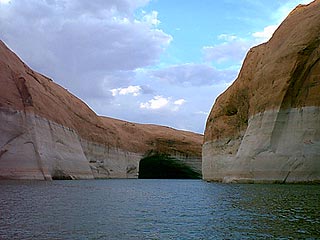 Glen Canyon Dam, which is a feature of the Colorado River Storage Project (CRSP), impounds Colorado River water to form Lake Powell, one of the most popular and scenic lakes in the world. Lake Powell is part of the Glen Canyon National Recreation Area which stretches hundreds of miles from Lees Ferry in Arizona to the Orange Cliffs of southern Utah, encompassing scenic vistas, geologic wonders, and a panarama of human history. The scenery is almost undescribable with towering rock formations rising majestically straight up out of the water. It is the second largest man-made lake in the United States and is 187 miles long with 96 major side canyons and a coast line of approximately 1,960 miles - more than the west coast of the U. S. from Seattle to San Diego. The Lake holds approximately 8.5 trillion gallons of water and the summertime water temperatures approach 80 degrees.
The Bureau of Reclamation started construction of Glen Canyon Dam in 1956 and Lake Powell started filling on March 13, 1963. In 1980, 17 years after the diversion tunnel gates were closed, Lake Powell filled completely. Today, over 20 million people depend on the waters of Lake Powell to sustain life.
The Glen Canyon National Recreation Area was established in 1972 and is operated by the National Park Service. Visitors to the Glen Canyon National Recreation Area number about 2.4 million annually.
With its hundreds of miles of shoreline, Lake Powell affords opportunities for hiking, camping, swimming, boating, and fishing. Although all types of water sports are popular, boating and fishing are the prime attractions. Lake Powell, which offers some of the nation's finest fishing, contains bass, bluegill, green sunfish, walleye, black crappie, northern pike, and catfish. In the river below the dam, the clear, cold waters released from the depths of Lake Powell create a perfect habitat for trout. The blue-ribbon fishery, which was developed after the dam was built, supports trophy-sized trout in the 15-mile reach of river to Lees Ferry.
Lake Information
Fees: Entrance Fee Required
Location: US Highway 89 at Page, AZ
Contact: 928-608-6404