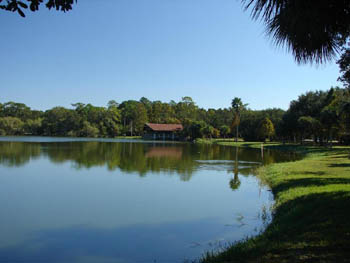 In a rural setting, the lake features rugged ravines, cypress ponds, limesinks and hardwood and pine forests. Nationally known for its largemouth bass and wide variety of plant and animal life, this lake also offers very good birdwatching. Lake Seminole has average depths of four feet, which encourages fine development of wildlife, including alligators.
Lake Seminole, nestled in the southwest corner of Georgia on the Florida and Alabama borders, is one of the top bass fishing lakes in the United States. In some areas, it's like the Florida everglades or the Okefenokee Swamp on the eastern side of the state, with tall grasses, wetlands and natural beauty.
Concessionaires around the lake offer a changing variety of services.
Lake Information
Location: 1 mi N of Chattahoochee off US 90
Contact: 229-662-2001