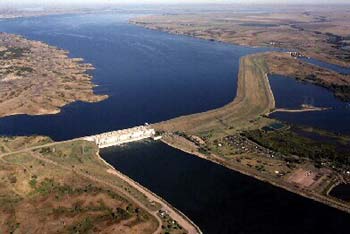 One of six large lakes on the Missouri River, Big Bend Dam and Lake Sharpe at Fort Thompson, South Dakota is operated by the U.S. Army Corps of Engineers. Approximately 80,000 acres of public lands and water provide a variety of benefits to the public including flood control, recreation, conservation of our natural resources, fish and wildlife habitat, irrigation, and hydropower production. Recreation opportunities include camping, swimming, boating, fishing, and hunting outside of recreation areas.
Big Bend Dam takes its name from the unique bend in the Missouri River seven miles upstream from the dam. At this point in its course, the Missouri makes almost a complete loop, traveling 25 miles before returning to the "neck" where the land is only about one mile wide. Lake Sharpe is named for former South Dakota Governor, Merrill Q. Sharpe, who was instrumental in implementing the construction of the Corps' dams on the Missouri River.
It is possible to view many types of wildlife on the Missouri River at Lake Sharpe. Tribal bison herds can be seen grazing the lake area's grasslands north of the towns of Fort Thompson and Lower Brule. The shoreline areas of the lake also offer excellent waterfowl, upland game birds and big game hunting opportunities. Fishing is a very popular activity on Lake Sharpe and in the tailwater area. Walleye is the primary sport fish although sauger, small mouth bass, white bass, channel catfish, and northern pike also provide great fishing action.
Lake Information
Location: 3 mi N. of Fort Thompson S.D. off Hwy 47
Contact: 605-245-2255