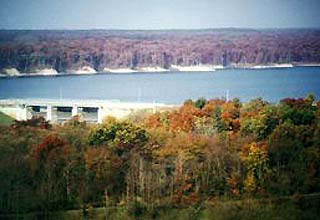 Lake Shelbyville is a US Army Corps of Engineers facility, built as part of a general comprehensive plan for the development of the Kaskaskia Basin for flood control, recreation, water supply, and fish and wildlife conservation. Combine the natural beauty of the area with the numerous outdoor recreational opportunities and Lake Shelbyville becomes an ideal vacation spot for people of all ages.
At normal pool, Lake Shelbyville averages 16 feet in depth, with a maximum depth of 67 feet. Islands, coves, peninsulas and inlets create 250 miles of picturesque, wooded shoreline. It extends nearly 17 miles from the dam at Shelbyville to its limits above Sullivan and Bethany. Development of the shoreline has been intentionally kept to a minimum, allowing uninterrupted views of the lake's natural features throughout its length. Large tracts of carefully maintained indigenous woodlands ideal for camping at over 1500 campsites, horseback riding, snowmobiling, boat fishing, water skiing, pontoon boating, windsurfing or just plain bobbing and drifting on the glittering expanse of the lake itself.
In addition to visiting the small, friendly wooded campgrounds or taking part in the action on the lake, swimming is available from the beach. You can also take a leisurely stroll through nearby forests. An abundance of deer, pheasant, rabbits, wild turkey and songbirds are almost always visible.