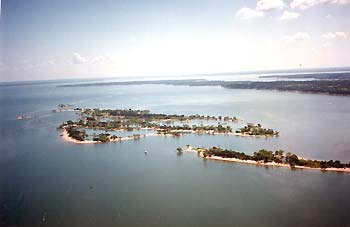 Lake Texoma is the second most popular Corps lake in the country with more than 6 million visitors annually. It has the twelfth largest capacity in the United States covering 74,686 acres, 580 miles of shoreline, and a maximum depth of 100 feet. Texoma is known as the "Striper Capital of the World." This lake is one of the few reservoirs in the nation where striped bass reproduce naturally. Other popular species include largemouth and smallmouth bass, white bass, hybrid striped bass, white crappie, black crappie, channel catfish and blue catfish.
Lake Texoma is thought to be the "Playground of the Southwest." The lake offers a multitude of amenities for most anyone who enjoys the great outdoors. The lake area includes two wildlife refuges, two state parks, fifty four U.S. Army Corps of Engineers-managed parks, twenty-six resorts, hundreds of campgrounds and a variety of excellent golf courses. Power boating, power sailing, personal watercraft, water skiers and wind surfers all consider the lake an excellent place to have fun. Lake Texoma has become a huge sailing center based on the lake's size, depth and miles of sailing shoreline. Also available are 40 miles of equestrian trails that are enjoyed by hundreds each year. Overnight accommodations, boat rental, slip rental and supplies are available at many of the 23 commercial concessions located adjacent to the lake.
Wildlife enthusiasts will enjoy the two national wildlife refuges that have locations in both Oklahoma and Texas. Each year thousands of canada and snow geese, various shorebirds, several species of ducks and bald eagles migrate to both the Hagerman and Tishomingo refuges. While deer, wild turkey and other native animals make their home year round on the some 30,000 acres that make up these two areas.
Lake Information
Location: From Denison, TX, 5 miles NW onTX 91
Contact: 903-465-4990