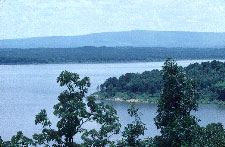 Lake Wister is located in the San Bois Mountains on the Poteau River -- the only river that flows north in Oklahoma. Wister Lake was authorized for flood control and conservation by the Flood Control Act of 1938. The project was designed and built by the Tulsa District Corps of Engineers. Construction began in April 1946, and the project was placed in full flood control operation in December 1949.
One of the most significant things about Wister Lake is that the Wister Project is listed on the National Register of Historic Places. The area around Wister Lake has been inhabited for thousands of years. Numerous mounds created by the prehistoric Native Americans still exist in the area.
Visitors to Wister Lake will find a variety of sightseeing opportunities to enjoy. Organized groups from distant points come to this area annually to see the magnificent fall foliage which consists of beautiful trees, native grasses, and wild flowers.
This man-made lake offers many opportunities for outdoor fun and sports. In addition to hunting, fishing, camping, picnicking and swimming, there is bird watching, and photography.
Lake Information
Fees: Park Permit Required
Location: 2 miles S of Wister, Hwy 270
Contact: 918-655-7206