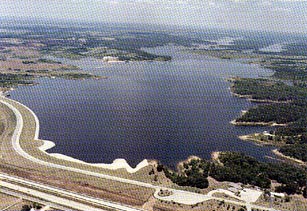 Nestled in the rolling farmland of northern Missouri is Long Branch Lake. The landscape was created millions of years ago when sheets of ice moved over the land. When the glaciers receded, they left a thick mantle of rich soil and a gently rolling landscape. As the Missouri River and its tributaries began to carve into the land, a more rugged topography was formed. Prairies dominated the upland areas of northern Missouri, while forests formed in the valleys of the rivers and streams.
In 1979, a 3,800 foot dam was built on the Little Chariton River by the U.S. Army Corps of Engineers to control flooding and create lake recreation. Just as the streams and rivers influenced the settlement to the area, the river and Long Branch Lake continue to be a gathering point for the people in north Missouri to enjoy. At normal pool level the lake covers 2,429 acres with a shoreline of 24 miles with many small coves that offer good fishing.
Campgrounds and picnic sites, scattered under trees and along the lake, offer a quiet spot for lunch and a scenic view. A 160-acre remnant of native prairie is being restored and visitors can see prairie grasses and plants such as big bluestem, Indian grass, and wild indigo.
Lake Information
Location: Hwy 36, 2 miles W of Macon, MO.
Contact: long.branch@Nwk02.usace.army.mil