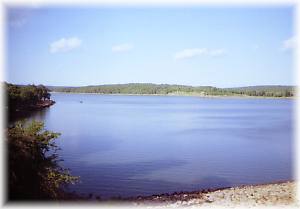 McGee Creek Reservoir is located about 15 miles southeast of the city of Atoka in one of the state's most scenic areas. It impounds the waters of McGee Creek in eastern Atoka County. Virtually all the land surrounding the lake is covered with dense forest.
The area provides numerous water-oriented recreation opportunities for the visitor. The lower part of the reservoir was cleared for the protection of water skiers, boaters and fishermen. The upper portion and forested areas provide scenic enjoyment and good hunting.
The Bugaboo Canyon Natural Scenic Area, covering 8,900 acres, lies to the northeast, providing hunting, fishing and nature studies. A 10,000 acre wildlife management area lies north and northwest of the reservoir.
McGee Creek Reservoir has 64 miles of shoreline, and a mean depth of 27.3 feet. McGee Creek Dam is in the Red River Basin on McGee Creek.
Lake Information
Fees: Primitive cabin fees and camping fees. Boat ramps are free-use.
Location: 3 miles N of Farris, off Highway 7.
Contact: 580-889-5822