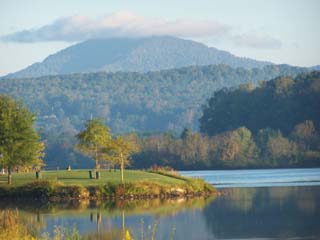 Melton Hill Reservoir is on the Clinch River in east Tennessee. It extends almost 57 miles upstream from Melton Hill Dam to Norris Dam with nearly 193 miles of shoreline and 5,470 acres of water surface for recreation. Much of the northwest shoreline is United States Department of Energy property while most of the opposing shore is privately owned. As a result, access areas are somewhat limited. A large extent of the reservoir is narrow and riverine, however, a few small coves do border the main navigation channel. Unlike other TVA reservoirs, Melton Hill is not used for flood control. But because it's used for power production, the level of the water in the reservoir fluctuates about four feet throughout the year.
The area around Melton Hill offers year-round camping plus sheltered picnic tables and pavilions. Two boat ramps, one below the dam and one above, give boaters access to Watts Bar Reservoir as well as Melton Hill Reservoir. Roads on both sides of the river are great for walking, jogging, or bike riding. Game fish in the reservoir include sauger, crappie, and bass.
The dam and reservoir take their name from a high knob located about two miles from the dam. On this hill is a triagulation station established in 1884 by the U.S. Coast and Geodetic Survey for use in mapping the area.
Melton Hill Reservoir extends the reach of barge traffic 38 miles up the Clinch River to Clinton, Tennessee, making the area attractive to industries that rely on this mode of transportation.
Lake Information
Location: W I-40 from Knoxville, TN to Exit 364, 1.5 mi N on Hwy 95
Contact: 865-988-2440