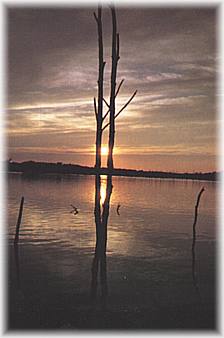 Melvern Lake's 6,930 surface acres of water and 17,244 acres of adjacent land serve as the nucleus of recreational and natural resource activities for more than 500,000 visitors annually.
Visitors looking for outdoor reacreation are fortunate at Melvern Lake. The lake boasts six parks (five managed by the COE and one managed by KDWP) that offer a wide range of facilities. A complete list of facilities available to the outdoor enthusiast are nature trails, an equestrian trail, local historic sites, hunting areas, a full-service marina, and an interpretive information center.
This region is characterized by gently rolling hills covered with tall native grasses. Native woodlands occur in the bottomlands along tributaries of the Marias des Cygnes River. Wildlife is abundant in the area.
Lake Information
Fees: Park Permit Required
Location: 6 miles N on Hwy 75 from I-35 Exit 155
Contact: 785-528-4102