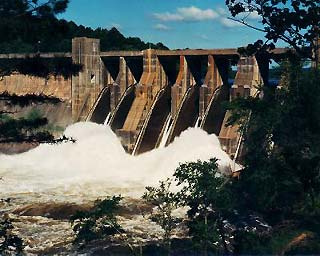 The 3,550-acre Lake Nimrod is Arkansas's oldest lake created by the U.S. Army Corps of Engineers. It was formed following the 1942 completion of a dam on the Fourche LaFave River. The Ouachita National Forest borders the lake's south shore, and State Scenic 7 Byway passes by its east end.
Nimrod Lake is best known among anglers for its "slab" crappie fishing. Other major game fish available include largemouth bass, bream, catfish and white bass, but the crappie fishing is unbeatable. Several stores and bait shops along the lake sell camping, fishing, and hunting supplies.
In-season hunting is permitted throughout the lake's project area except in and near recreation areas. A 2,400-acre "green tree" public duck hunting area is available on project lands and 3,800 acres are managed for propagation of bobwhite quail and upland game. Corps of Engineers' recreation areas on Nimrod offer 136 campsites, playgrounds, swimming areas, fish cleaning stations, picnic shelters and other recreational facilities.
Lake Information
Location: 3 m W of Fourche Junction, HWY's 7 & 60
Contact: 479-272-4324