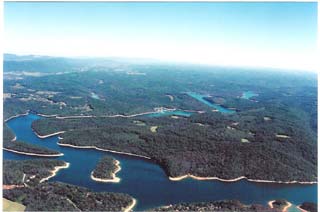 Norris Lake is a spectacular Tennessee attraction for all kinds of water sports such as swimming, skiing, wakeboarding, fishing and many other lake activities. Boaters come as far as Wisconsin and Florida but most of the population comes from Ohio, Kentucky and Tennessee. Boaters and lake activists can find much to discover as Norris Lake covers 33,840 acres of water and 809 miles of shoreline including 50 miles of island shoreline; it is the largest reservoir on the Tennessee River system. Norris Lake is a combination of two rivers, the Clinch and the Powell River. Norris Lake stretches 72 miles up the Clinch River and 56 miles up the Powell River. At its widest Norris Lake is 1.2 miles wide.
With Norris Lake sitting on the foothills of the Cumberland Mountains it provides picturesque views of the mountains from its fresh, warm clear waters. The warm water is a residence to many species of fish. Large mouth, small mouth bass, walleye, Rock fish and many other species are well known to reach 50lbs in weight. The Tennessee state record brown trout was caught in the waters of the Clinch River below Norris Dam.
Norris Lake is a popular tourist and recreation destination, and in summer 2005 TVA opened a new visitor center at the dam. Visitors can learn about the history of Norris, hydropower operations, and TVA's management of the river system. The facility, located at the top of the dam, is open Monday through Saturday from 9 a.m. to 5 p.m. and Sunday from 1 to 5 p.m. It's staffed by TVA retiree volunteers.
In the 1930s, TVA established demonstration public parks at several locations on Norris Reservoir, including Cove Lake, Big Ridge, and the area around Norris Dam. These parks later became the nucleus of Tennessee's state park system.
Norris features three hiking trails. The River Bluff Trail is the longest at 3.1 miles and offers rich pockets of wildflowers. The Edge Path is a shady corridor with wheelchair access. The Songbird Trail is, as the name suggests, a popular area for birding.
Lake Information
Location: From Knoxville, TN I-75 N to Exit 122, 2 mi E on Hwy 61. 4 mi N on Hwy 441
Contact: 865-632-1539