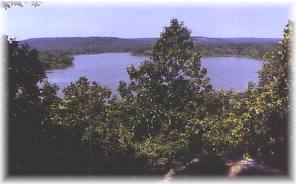 Okmulgee Lake was built in 1926 as a water project for the City of Okmulgee, and covers 668 acres with 19 miles of shoreline. The lake is picturesque, functional, and offers many types of outdoor recreation. Several recreation areas along the east side of the shore offer camping, nature trails, picicking, swimming, boating, and is very popular with water skiers. It is an excellent fishery lake with good trotlining and jug fishing.
Okmulgee Lake is an old body of water with huge boulders, stout post oak trees and a scenic spot around every corner of the twisting road that skirts along its near shore. Several sandstone shells of buildings, foundations and chimneys hint of times past. The highlight of a visit to Lake Okmulgee is the beautiful dam area, with its cascading waterfalls and rushing streams during high moisture times.
Modern, fully-equipped camping areas are available by reservation and rental to take care of the most elaborate motor home or the simplest tent, located in Okmulgee State Park.
Located near Okmulgee Lake is the Okmulgee Public Hunting Area. This is a highlight for the outdoor enthusiast interested in hunting, hiking, wildlife and bird watching.
Lake Information
Fees: Park Permit Required
Location: 5 miles W of Okmulgee on Highway 56
Contact: 918-756-5971