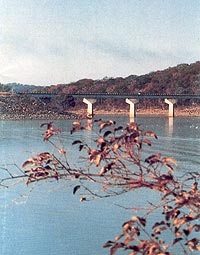 Just another day in paradise... A phrase coined by folks just like you who enjoy their favorite activities in the beautiful surroundings of Perry Reservoir. There are so many things to see and do at Perry Reservoir. Come for a day, a weekend, or spend your vacation at the Lake. You'll find it hard to leave our little piece of Paradise!
With nearly 160 mies of shoreline Perry Lake offers recreational opportunities for picnicking, swimming, camping, hunting, fishing, boating, sailing, skiing, hiking, and many other outdoor activities.
Trails have been constructed for many activities. An equestrian trail runs through Perry State and Rock Creek Parks. A hiking trail follows the east side and the Slough Creek arm of the lake. A motorcycle and ATV trail is located south of the dam.