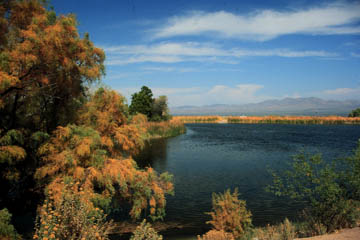 After a long day of driving or hiking, the natural hot springs at Roper Lake are not only inviting, they're invigorating! Roper Lake State Park provides a great place to spend a few days or just a few hours. Desert vegetation, a peaceful lake and a view of Mount Graham, just a few miles away, frames a beautiful picture for visitors to enjoy.
There are two different sections to the park: the main unit, Roper Lake, and the Dankworth Pond unit, three miles south. Roper has 30 lake surface acres, a boat ramp, natural stone hot tub, swimming, a day use island, beach and campsites. Dankworth Pond is 15 lake surface acres and was once a fish hatchery for rearing catfish. It has picnic ramadas, an Indian Village and a playground available. Both units provide opportunities for fun for the whole family!
Roper is a stocked lake, making it a great place for kids to catch their first fish. If you've always wanted to learn how to sail board, then this is the place to do it. Boats are limited to only small electric motors, creating ideal conditions to bring a sail board and hit the water. Five miles of trails throughout the park let you stretch your muscles and view the wildlife. Arizona State Parks began managing Roper Lake in December 1974 through a cooperative management agreement with the Arizona Game and Fish Department.
Lake Information
Location: The park is located off U.S. Route 191, six miles south of Safford.
Contact: 101 E. Roper Lake Road
Safford, Arizona 85546
(928) 428-6760
Fax (928) 428-7879