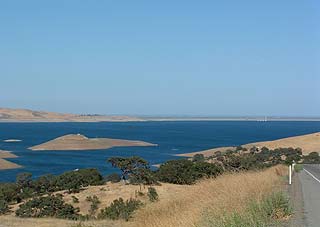 Nestled in the grassy hills of the western San Joaquin Valley near historic Pacheco Pass, San Luis Reservoir State Recreation Area is noted for boating, board sailing, camping, and picnicking. But it's anglers who find the unit's three lakes most inviting. All are part of the California Water Project and operated jointly by the California Department of Parks and Recreation, the California Department of Water Resources, and the Bureau of Reclamation.
Outstanding fishing for striped bass. Five world record or former world record stripers caught on the Forebay. Other species available at San Luis Reservoir and O'Neill Forebay are American shad and catfish. Excellent fishing at Los Banos Creek Reservoir for largemouth bass, bluegill, crappie, catfish, and trout. A 5-miles-per-hour speed limit at Los Banos Creek; no high-speed boating activities.
Regular strong winds make O'Neill Forebay and San Luis Reservoir an excellent location for boardsailors. The area around San Luis Reservoir and O'Neill Forebay is often very windy, and winds can come up quite suddenly. Watch the wind warning lights at the Basalt entrance station, Quien Sabe Point, and Romero Visitor Center. On the Forebay, wind warning lights are located at the Medeiros boat ramp and above the South Beach picnic area at San Luis Creek.
Managed by the California Department of Water Resources, the Romero Visitor Center provides full information on the reservoirs and water projects through audio-visual and printed materials. Telescopes are also available for viewing the area.
Lake Information
Location: On Hwy 152, 7 mi W of I-5, or 33 mi E of Hwy 101 from Gilroy.
Contact: 209-826-1197