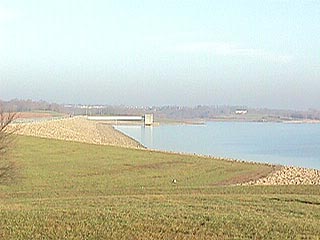 Smithville Lake covers 7,190 surface acres and stretches 18 miles up the Little Platte River Valley from the damsite at Smithville to the City of Plattsburg. This extended shoreline, ranking third longest in the Kansas City District Corps of Engineers, is a significant statistic since fish and wildlife are dependent upon the shoreline for their habitat.
The Clay County Parks Department provides 777 campsites surrounding Smithville Lake with recreational opportunities for boating, sailing, swimming, golfing, fishing and hunting.
The Jerry L. Litten Visitor Center in cooperation with the USCOE offers exhibits and self-guiding kiosks on the history of the area, the dam, wildlife management, cultural resources, and Mr. Litton's life and contributions.
For lake information check out the informational "bars" located to the right. Find nearby cities that provide additional attractions, events and related businesses for the day or more visitor to enjoy.
Lake Information
Fees: Park Permit Required
Location: 1 mile N of Smithville on Hwy169
Contact: 816-532-0174