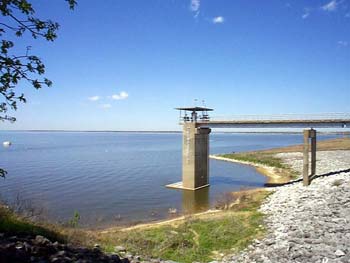 Somerville Lake boasts one of the highest attendance records in the US Army Corps of Engineers Fort Worth District, which is comprised of 25 Central and North Texas lakes. The lake is located in the south central part of Burleson County and the north central part of Washington County, with the upper reaches of the lake extending into Lee County. The dam site is located on Yegua Creek, 20 river miles upstream from its confluence with the Brazos River. The normal lake pool elevation is 238.0 feet (above mean sea level) which encompasses 11,460 acres. There is approximately 85 miles of shoreline. The total length of the dam, including dike and spillway, is 26,175 feet.
During your visit to Somerville Lake, be sure to take advantage of all the recreational opportunities and natural beauty that the lake has to offer. Somerville Lake offers many opportunities for outdoor recreation, water sports, fishing, hunting, boating, or just relaxed living.
Rocky Creek Park, Yegua Creek Park, Pecan Lake Park and McCain Park are US Army Corps of Engineers parks. There are two State Parks units with campgrounds, two marina campgrounds, and a City of Somerville campground. Two private floating marinas and 11 boat ramps provide plenty of lake access for water recreation. Yegua Creek Park has a nature trail, and the State Parks Units offer a more developed 7.5 mile long nature trail and 21.6 mile long hiking/equestrian trail. The Corps of Engineers provides an all-terrain vehicle area outside of the developed part of Yegua Creek Park.
Take time out to appreciate the natural resources the lake and surrounding area have to offer. Fish and wildlife habitat abound. The floodplain provides aquatic, woodland and extensively cleared pasture habitats.
Lake Information
Location: From Somerville, 1 mi W of TX 36
Contact: 979-596-1622