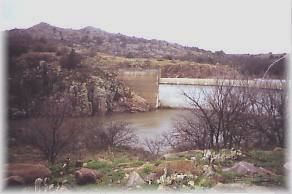 Tom Steed Reservoir, with 6,400 surface acres and 31 miles of shoreline, lies on West Otter Creek northeast of Altus in Kiowa County.
Vegetation in this plains region consists of agricultural crops and native shortgrass, with scattered growths of hardy mesquite trees providing a sharp contrast to the stark granite outcrops of the nearby Wichita Mountains. The Wichita Mountains Wildlife Refuge is only a few miles to the east and is home to large herds of roaming buffalo, longhorn cattle, elk and smaller bands of other protected animals. Boulder slopes flanking the reservoir support juniper, mesquite, scrub hackberry, plum, various flowering plants and cactus. Bottomland trees include cottonwood, elm, walnut, ash and pecan.
More than 6,000 acres east and south of the reservoir are available for public recreation and offer numerous facilities for the tourist. Great Plains State Park on the west side of the Lake offers year round camping.
Lake Information
Fees: Park Permit Required
Location: 8 miles N of Snyder, Hwy 183
Contact: 580-569-2032