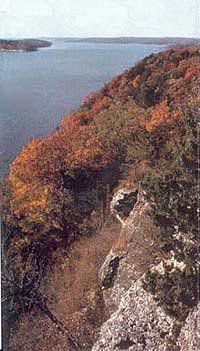 Located on the Prairie-Ozark border, Truman Reservoir offers an ideal setting for outdoor recreation. Tugged hills, scenic river bluffs and hardwood forests offer some of the best scenery in the state. The 56,000-acre lake offers water sportsmen ample area to pursue their interests, and more than 100,000 acres of project land surrounds the lake allocated for outdoor recreation activites such as hunting, hiking, and horseback riding. Overnight accomodations, services and supplies are available at commercial concessions on the lake and in nearby communtiies. Park areas on Truman Reservoir offer a variety of recreation facilities including boat launching ramps, campgrounds, picnic areas, and beaches.
Harry S. Truman Dam, located on the Osage River about 1 1/2 miles northwest of Warsaw, Missouri regulates water flow to produce hydroelectric power for the Southwest Power Administration. Six turbine-generator units transform the energy of moving water into electrical energy. Water in the reservoir is channeled through gigantic intake tubes where it makes the blades of the turbines spin in propeller-like fasion spinning huge coils of wire inside the generators.
A visitor center, operated by the U.S. Army Corps of Engineers, is located on top of Kaysinger Bluff and offers a panoramic view of the lake. Interpretive displays explain the area's history, wildlife and archaeology, as well as the practical functions of the lake.
Lake Information
Fees: Park Permit Required
Location: 1.5 miles NW of Warsaw off Hwy 83
Contact: Harry.S.Truman@Nwk02.usace.army.mil