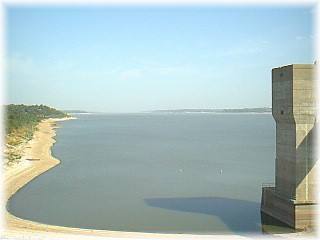 Practically neighbors to Kansas's largest man-made lake lies Tuttle Creek Lake, the second largest lake in Kansas. Only 38 miles separates Milford Lake and Tuttle Creek, two powerhouse meccas for outdoor recreation. The size of Tuttle Creek Lake combined with the prevailing winds make the lake one of the best sailing lakes in Kansas. With the 14-mile stretch of open water on the main body of the lake, sail boaters can find plenty of room to maneuver.
Power boaters on Tuttle Creek Lake also enjoy the large main body of the lake on calm days for water skiing and pleasure boating. If the wind blows too hard, McIntire, Carnahan, and Mill Coves, and the face of the dam offer protection from rough water. Canoeists and kayakers will find River Pond below the dam a perfect place for paddling. The state park offers canoe, kayak, and paddleboat rentals.
Fishermen use the large expanse of inland water and its 104 miles of irregular, wooded shoreline to catch bass near standing timber and brush piles. Spring is a great time to catch master angler white bass and crappie in the standing timber as well as off the face of the dam and the river below. Along with saugeye, excellent channel cat and flathead fishing is available in the lake and in the river above and below the lake.
Numerous public sites around the lake are available for camping, swimming, picnicking, and outdoor recreation. Six areas provide boat launching ramps, restrooms, water supplies, picnic tables, grills and overnight camping pads, and four areas with shower facilities. Electric and water hookups, a swimming beach, boat ramps, courtesy docks, and dump stations are available. Campgrounds contain 159 water/electric campsites, 8 electric/water/sewer campsites, 24 electric-only campsites, 20 electric sites with community water at the Randolph Area horse campground and 500 primitive campsites.
Eleven cabins are offered at Tuttle Creek State Park. Each cabin offers a full kitchen with basic pots and pans, table service for six, a full bathroom, heating, A/C, picnic tables, grill and fire-ring.
The 12,000 acres surrounding Tuttle Creek Lake offers excellent hunting and wildlife watching opportunities. 480 acres of constructed wetlands provide food and shelter to migrating shorebirds and waterfowl. Other managed species include white-tailed deer, turkey, quail, pheasants, squirrels and doves. Numerous nature trails, a mountain biking trail, and a scenic equestrian trail offer explorers a variety of routes to experience the aesthetic Flint Hills environment. Scenic picnic areas, an 18-hole disc golf course, volleyball courts, horseshoe pits, and conveniently placed restroom and shower facilities accommodate park visitors. The state-of-the-art Fancy Creek Shooting Range and a new archery range are open at River Pond for sharpening those skills.
Lake Information
Fees: Park Permits Required
Location: Five miles north of Manhattan on Hwy 24
Contact: 785-539-8511