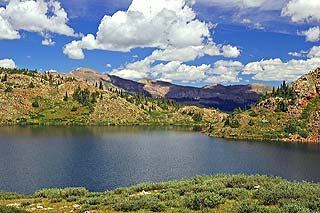 Known for its numerous little coves and inlets, Ute Lake is among the state's longest lakes, almost 13 miles long, though only 1 mile wide at its widest.
A popular family camping destination, this boating and fishing park also has good swimming spots, a hiking/ nature trail, and wildlife.
It boasts a marina and a full range of water sport activities. Located near Logan, New Mexico, the park is comprised of 1,500 acres of land in addition to the 8,200 acre lake. Altitude at Ute Lake is 3,900 feet.
Park amenities include visitor center, a group picnic shelter, a marina, restrooms, and showers. Camping facilities include 98 developed sites, many with electric hookup, and an RV dump station.
With its scores of inlets to explore, the lake abounds in ducks, quail, doves and pheasant. Deer and antelope roam the surrounding plains and mesas.
Round-the-clock fishing is available every day of the year for angler fanatics. The lake has produced several state-record game fish.
Lake Information
Location: Northeast of Tucumcari, near the town of Logan, off of Highway 54
Contact: State Park Superintendent
P.O. Box 52
Logan, NM 88426
505-487-2284.