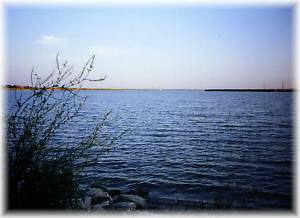 Sometimes called Glen Elder Lake it is one of Kansas's largest lakes. 12,500-acre Waconda Lake and park offers almost unlimited recreational opportunities. With its rural setting it is a perfect place for families to have fun and relax. It has good populations of fish and typically rated high in regards to catching fish. The park areas around the lake are clean and have restrooms.
The park encompasses almost 13,200 land acres surrounding Waconda Lake. You can see and photograph a diversity of wildlife species. In winter, bald and golden eagles visit. Deer and pheasant are common sights. Waterfowl stop on their migrations, and a small Canada goose flock makes the area home. Hunting is permitted on certain areas during the seasons.
KS Dept. of Wildlife & Parks Glen Elder State Park 2131 180 Road Glen Elder, KS 67446 Phone:785-545-3345 Email:gleneldersp@wp.state.ks.us
******KIDS FISHING INFORMATION****** LASR will contact community people located on or near our listed lakes. We will make a very strong effort to point to an exact bank area that will have the right cover that attracts fish in the hopes of increasing the odds of kids catching a fish. LASR will also give at least two suggestions on what to use for bait. Catching a fish even if it is small can be the make or break in a kid or adult wanting to go fishing again. Typically these areas will have bluegill or similar fish which may not be "large" but are fun to catch.
If there is nothing listed yet on the lake you want to go to just ask if we can help and we will work to find the best area for you to go. If you have a lake you would like us to list let us know and we will do our best to add it to the LASR site. thomas.lasr@gmail.com or webmaster@lasr.net
**WEATHER AT THE LAKE https://weather.com/weather/tenday/l/67446:4:US
**LOCATION Google LAKE Map. SHOWS CAMP AREAS www.google.com/maps/place/Waconda+Lake/@39.4926871,-98.4459328,12z/data=!3m1!4b1!4m5!3m4!1s0x87a28f3fc0b243b3:0xf57c97e93fe0366e!8m2!3d39.5038802!4d-98.385532
** TO PURCHASE KS. FISHING LICENSE: https://ksoutdoors.com/License-Permits
**WATER LEVELS & STREAM FLOW" Bureau of Reclamation www.usbr.gov/projects/index.php?id=461
**FISHING REPORT(s)
(a) Kansas Dept. Wildlife/Parks https://ksoutdoors.com/Fishing/Where-to-Fish-in-Kansas/Fishing-Locations-Public-Waters/Northwest-Region/Glen-Elder-Reservoir
(b) RADAR'S LODGE" = Local fishing report.***** www.raderlodge.com/blog/category/lake-waconda-ks-report/
**CAMPING-RV PARKING
(a) Glen Elder State Park, KS www.kshuntfishcamp.com/camping/glen-elder-state-park/r/campgroundDetails.page?parkID=519122&media=3
(b) RV Park Reviews - Glen Elder Park - www.rvparkreviews.com/regions/kansas/glen-elder/glen-elder-state-park-5692
**Lodges/Lodging Waconda Lake Association - go to - www.waconda.com/links.html
**Guide Services - TYPICALLY YOUR BEST BET IF YOU'RE UNFAMILIAR WITH AREA. Don's Guide Servidce ==== www.donshuntingandfishingkansas.com/
**BAIT/TACKLE
(a) Outdoor Memories Taxidermy & Sporting Goods/Glen Elder,KS. (785) 545-3333
(b) Brady's Lakeside Convenience - fuel,food & supplies - 785-545-3150
**BOAT SALES/REPAIR Waconda Boats and Motors - www.wacondaboats.com/ LASR has never had a complaint about these people. **COMMUNITIES ARE LISTED BELOW
Lake Information
Fees: Park Permits Required
Location: 11 miles west of Beloit on Hwy #24
Contact: 785-545-3345